Despite the absence of those pesky 14,000 foot peaks you might find out west, the Heart of Virginia boasts some of the finest hiking and mountain biking trails in the Commonwealth. The rolling geography is challenging enough to test your mettle and yet level enough to avoid any next day soreness. And the variety of options means that, depending on the day, the weather, and your mood, you can attack a trail on a mountain bike or just go for a leisurely stroll with your significant other.
Whatever your mood is calling for, the five trails below provide. So read on to discover the top-5 hikes in the Heart of Virginia—each of which is less than an hour from the campus of Hampden-Sydney College.
First, here's our basic criteria:
Distance to the trailhead. A good rule of thumb is to make the hike twice as far as the drive. In terms of time. Not miles. Because driving 20 miles is not the same as walking 20 mi–never mind.
Activities offered. Hiking, biking, swimming, fishing, camping, etc. For those who aren't content to simply amble around.
Trail condition. Even the most rugged among us disdains waterlogged shoes or cut-up legs. And no one enjoys being lost in the woods or hunting for trail markers either.
Eye candy. Get your mind out of the gutter! We're talking about Mother Nature and her views and vistas.
Brain candy. Exercise your brain along with your body by experiencing something new and letting your imagination run wild.
Difficulty, elevation gains, and technical considerations. Full disclosure: We just put this here to sound cool.
Foot traffic and the general mindset of others. It's hard to enjoy the outdoors if it feels like walking around a shopping mall (remember those?).
Gear is important (and we'll devote a future Swagablog entry to hiking gear), but so you've got no excuse, here are the basic things you'll need to get started:
A pair of sneakers that you don't mind getting dirty. Once you're ready to get a little more aggressive (and because Christmas is right around the corner), a good pair of day hikers might do the trick – and don't believe the hype that you need clunky high tops. I'm currently rocking the Salomon XA Pro 3D V8 GTX Wide and love 'em. They've served me well summiting the nation's highest peaks and traversing simple dirt trails through the woods.
Hydration, hydration, hydration. This could be a hydration backpack or a water bottle in your hand. Just remember, it's better to have it and not need it than to need it and not have it. Rule of thumb? Stick to water. But pack some candy if you think you'll run out of energy.
Bug spray. Ticks are bad news. Mosquito bites itch. We hope murder hornets don't exist. You get the picture.
Ziploc bag. Protect your phone (and your toilet paper… in case you need to do what bears do).
A map of the trail. Smart phone maps are okay if you'll have reception, but the ability to read a physical map will give you street cred (trail cred?) and set you apart from your compadres if there's ever a zombie apocalypse.
As the Scouts say, be prepared! Get familiar with the trail and terrain, even if you have a phone. Read the trail guide and reviews. Download a map. Tell a friend where you're headed. Better yet, wrangle a friend to join you. Now, without further ado…
Top-5 Trails in the Heart of Virginia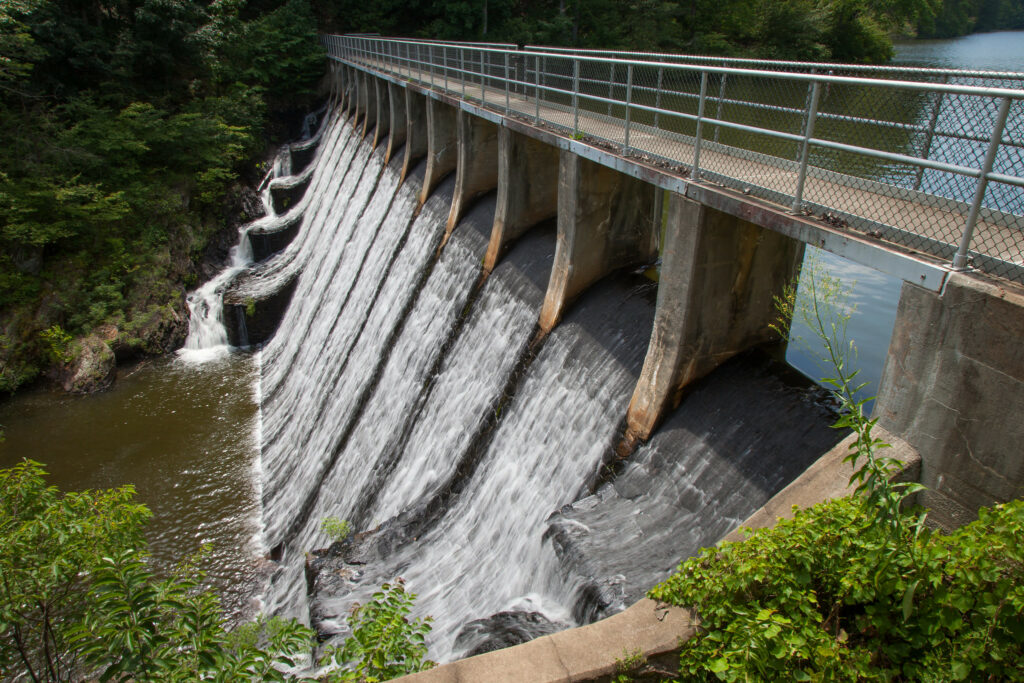 A multi-activity spot in the forest about 45 minutes from the Town of Farmville, this is the farthest off the beaten path of these five options. In addition to being great for hiking, mountain biking, and trail running, the aquatic options are good, too, so bring a paddle board, kayak, or fishing pole and get your triple.
The Lakeshore Trail is well marked with pleasant views of the lake and is not too busy. The dam crossing is a highlight. (Don't believe us? Just look at the dam picture above.) The Carter Taylor Trail features a lot of semi-boring logging roads and hence is much better for mountain biking than hiking. If you need some extra mileage, take a stroll up through inner parts of the park. When you've finished your workout, fire up the grill or go for a relaxing swim. $5 vehicle admission (or get the Naturally Yours Passport for $75 per year).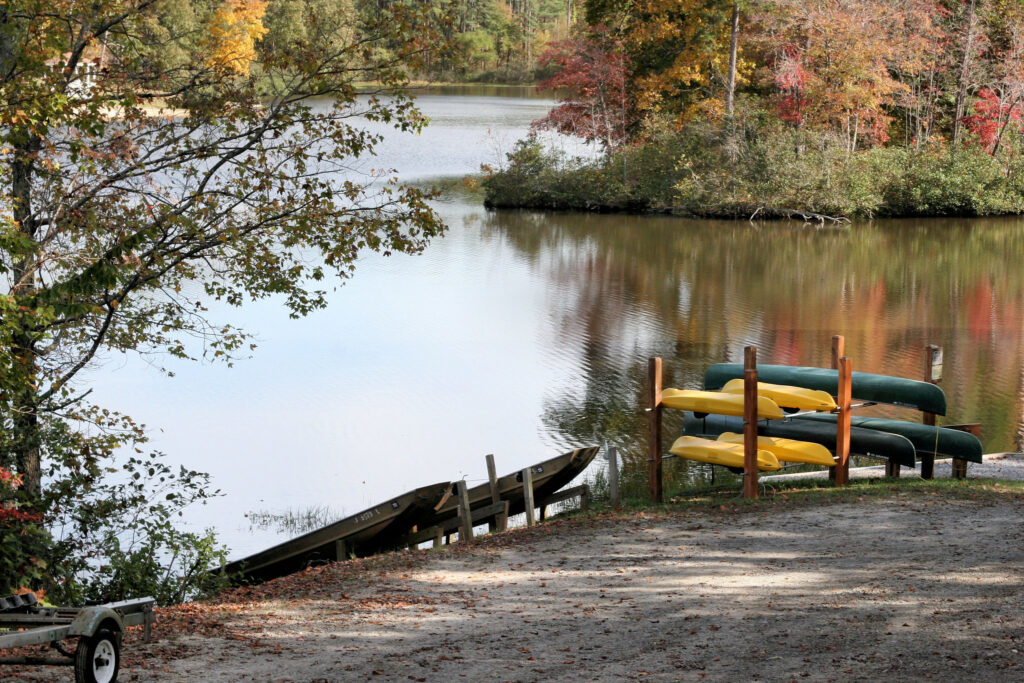 Only about 20 minutes from Farmville or the campus of Hampden-Sydney College, these multi-purpose trails are well kept with a pretty steady up-down roll. This would be a great trail for an off-road triathlon. As with Holiday Lake, bonus lake activities abound. Expect to find folks fishing both ponds. The cabins are a well-kept secret for out of town guests, and the park offers plenty of campsites. $5 vehicle admission (if you don't get the annual pass).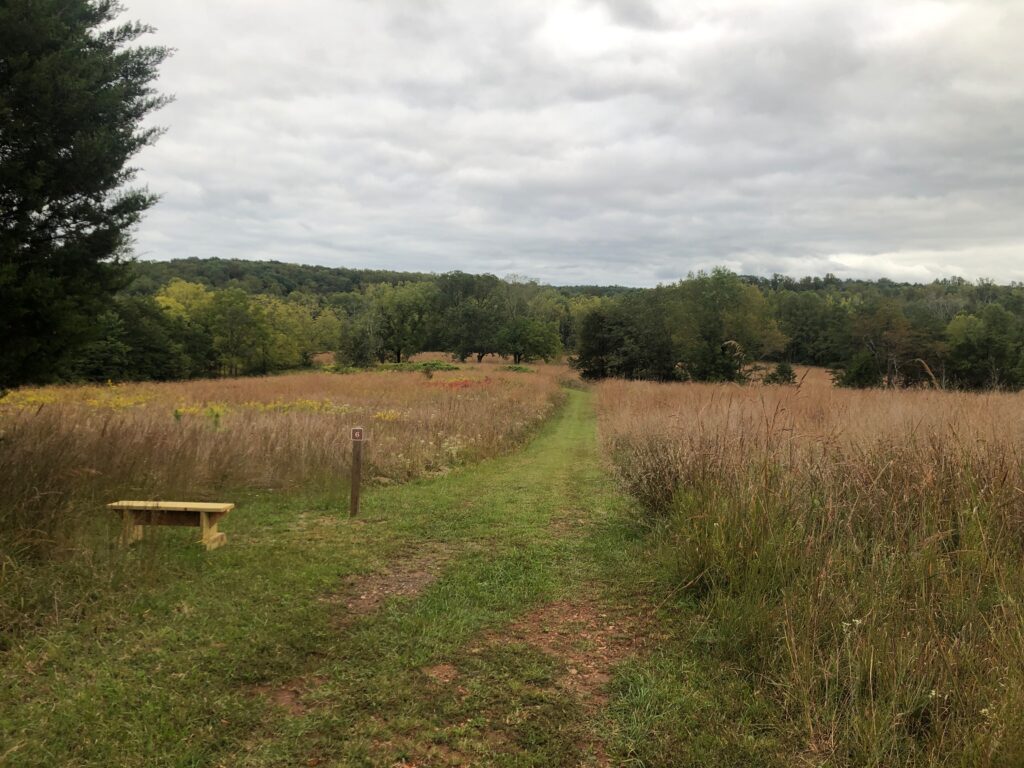 In 1865 the Civil War ended here at Appomattox. For a short walk, park near the Visitor's Center and stroll through the village along the Richmond-Lynchburg Stage Road. You'll see and feel plenty of history. Just know that there are several spots more impressive than the McLean House and village buildings (even though they're cool, too). Don't miss the salute site, where you can stare across the lane past the wayside, where miles and miles of men once stood.
To get the full treatment, drive just past the old village and Visitor's Center. Look on the opposite side of the street for a marker and lot for a trail to Lee's Headquarters. You'll get a longer, much more imaginative walk from here. Start on the Lee's Headquarters Trail and head to the Tobacco-Prizery Nature Trail to the Southside Connector Trail to Grant's Approach Trail to Old Richmond-Lynchburg Stage Road (through the village) to the Stage Road Trail and, finally, to the Sweeney Trail, which returns you to your starting point.
This route is just under 7 miles. Better than that, it's well marked and well groomed. The foot bridges crossing the streams are also in great shape, and except for the Old Richmond-Lynchburg Stage Road through the village, the route is very lightly travelled. The buildings and memorials scattered along the trail offer a refreshing brain marinade, and the light elevation change (600 feet total) is enough to raise your heart rate.
Just remember when you come out of the woods that the cars on Route 24 are moving about 55 mph, so be careful crossing. Added bonus: This hike is FREE.
Piece of advice: In the woods on the back side of the trail, pause and consider what the cavalrymen and advanced scouts were seeing and hearing 150 years ago. You can be sure they weren't worried about the right time to eat a granola bar or sip some water.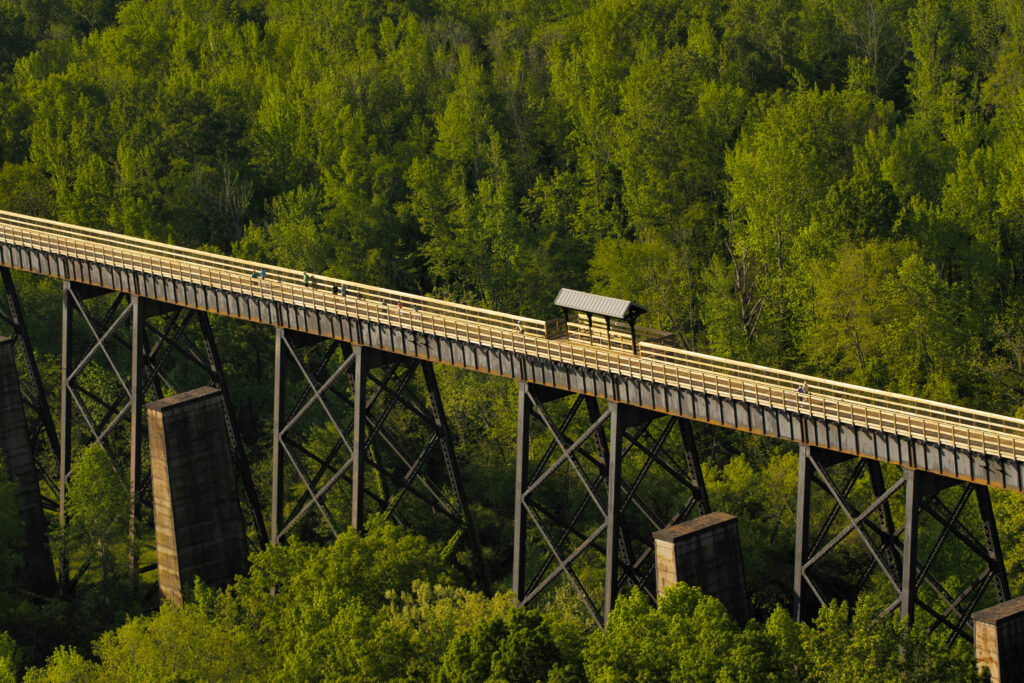 End to end, this trail is 31.2 miles long – ideal for hiking, running and biking. You'll get a good day of exercise riding out and back if you choose to do so, but the advantage of the High Bridge Trail is the multitude of activities and side trails it offers, combined with the fact that the half-mile bridge itself provides the best pedestrian view of the Heart of Virginia. Grab your buddies or your belle and view the miles of countryside from what feels like the top of the world (come on, what did you think the "high" in High Bridge referred to?).
The best access to the bridge is from Camp Paradise, near Rice just off route 460. It is only 0.3 miles (mile?) to the bridge, and a gravel parking lot offers a ton of parking, an enclosed outhouse, and great trails off of the main High Bridge trail. There is a $5 charge to park (unless you have the Naturally Yours Passport). One of these trails, the Camp Paradise Trail, is a 1-mile loop that starts with a gradual walk down to the river, where you'll see that the bridge's height is a bit deceiving. Then head back up past the earthworks and artillery battery that were built to defend the bridge during the Civil War. The other Camp Paradise trail (Spur Line Trail) is a 1.5 mile loop with a scenic overlook sign at its entrance. Do it for the exercise rather than the view. It is shaded and well-kept whether on foot or a bike, but there's no scenic overlook.
There are several other good entry points to access the High Bridge. One is on River Road (0.9 miles from the bridge) which has the $5 parking, and the other is in downtown Farmville (4.5 miles to the bridge), where parking is free in most places. Between Farmville and the bridge is an area called Rochelle, which has about 7 miles of wooded trails. For a good day of easy mountain biking you could leave from town, ride out across the bridge to Camp Paradise, hit those two trails and come back across the bridge to Rochelle, then tackle those trails and call it a day when you return to your car. The beauty of this area comes not just from the view, but the many combinations of trails to tackle. There are many entry points, and it's easy to add or subtract miles depending on how you're feeling. Regardless of where you start and despite the abundance of other people on the trail, just do it. You'll be glad you did.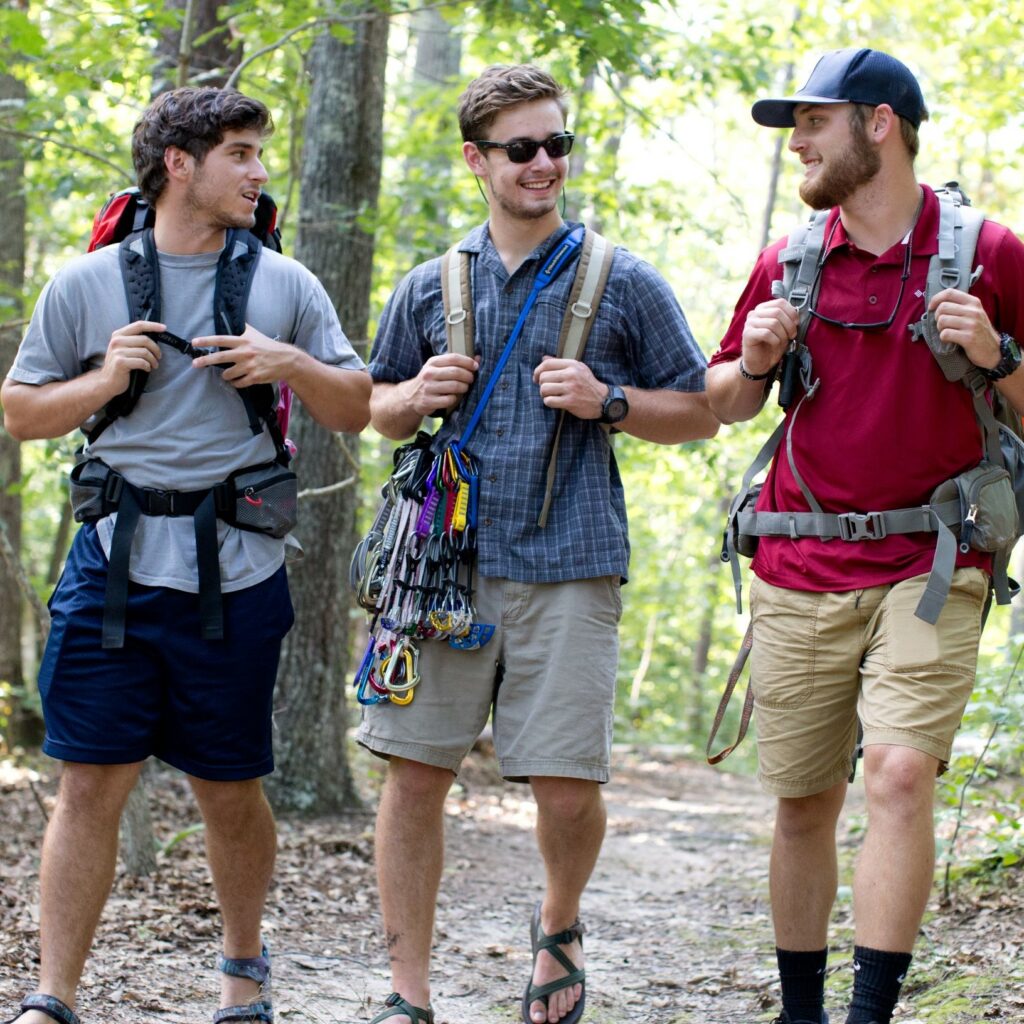 Located on the campus of Hampden-Sydney College, the Wilson Trial is the best in the Heart of Virginia for several reasons. First, you can't beat the ease of access. Either park at the main entry point or just head out from your dorm room and hop on. And there's no need for a pack because cut-off trails make it easy to return to your starting point. At the same time, the 3-mile trail can be as challenging as you make it, with some good elevation changes and add-ons via the bike trails. The trail is also lightly travelled but well-kept and well-marked. The series of streams provide a nice soundtrack and backdrop… until someone pushes you in. Because guys do that sometimes.
The best part? You can enjoy every step of this trail without ever leaving the college that Field & Stream calls "a hidden gem for outdoorsmen."
One More Thing
Heading outdoors is about becoming one with nature, Swagabloggers – not getting one more Instagram follower. So leave the phone in your pocket, take a few mental snapshots, and soak in that nature. Now get out there.